Happy Monday, friends! Remember I asked you for paper trimmer recommendations last week? Well, after reading your comments and doing a lot of research, I found the perfect tool. 🙂 Want to find out which paper cutter I'm talking about? Make sure to watch the video below and read my blog post for a quick summary.
Lots of crafty people have been recommending the Tonic Guillotine 12 Inch Paper Cutter ( EH | TNC | SSS | AMZUS )! I decided to contact Tonic and let them know I would love to try out the tool and post a review to share my thoughts. They were happy to send me the machine in return for a demo video. So, a big shout out and thank you goes out to Tonic Studios for their generosity and kindness. 🙂 That being said, keep in mind this review is 100% honest. I would never ever share products on my blog that I don't like!
The trimmer I'm talking about is the Tonic Guillotine 12 Inch. Many card makers have been using it for years (including my card making muse Kristina Werner – she's the reason I got into card making 8 years ago, lol!). The detachable measuring bar makes it easy to cut paper up to 12 inch/31 cm. This makes this paper cutter perfect for all paper crafters out there including scrapbookers and of course… CARD MAKERS!
I covered a lot of information in my video, so here's a quick summary to refer to whenever you're in doubt. 🙂
At first this trimmer seemed big and heavy to me! However, it's not. You can store the measuring bar and even the Kushgrip comfort handle under the base. This makes the tool compact, portable and lightweight.
Say goodbye to fuzzy edges! The Guillotine machine gives you a clean, crisp and fine cut every single time.
The blade is self-sharpening so there's no need to switch blades. That way you actually save money over the months and years!
Remember to press down the safety guard/finger guards when cutting. That way you can hold the paper in place easily.
The half inch markings and measuring bar on the top, middle and bottom of the trimmer make it fast and easy to cut paper to your desired size.
That's it for now! Thanks for watching my video. I'll be back soon with new card making videos. Next Saturday, actually! See you then. Xo
SUPPLY LIST
I am affiliated with Simon Says Stamp, Ellen Hutson, Hallmark Scrapbook, Spellbinders and Amazon. That means I earn a small commission when you purchase through my links (with NO additional costs to you!). Click HERE for more information about my disclosure and affiliation with companies.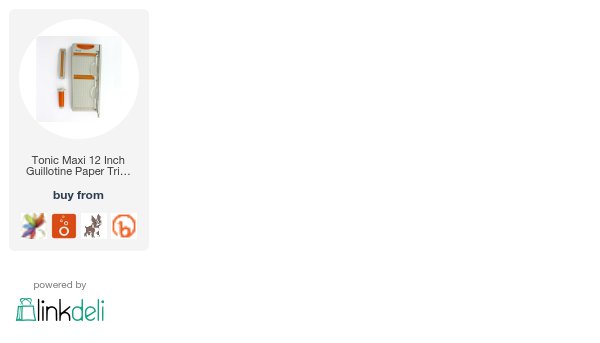 BewarenBewarenBewarenBewarenBewarenBewaren
BewarenBewaren