Hi, again! Last week, Kristina Werner shared a video on how to create a super easy shaker card. She uses foam tape, doubles it back on itself and then removes the release paper. This inspired me to create my own blog post on my favorite technique to make sequin shaker cards. 😄
In the video, I'm showing you how to make a clean and simple shaker card with acetate, foam sheets and liquid adhesive.
I don't have any foam tape so whenever I make a shaker, I like to use Fun Foam. These are white foam sheets that are easy to cut to any shape. You can also use die cuts with it to match the shape of your shaker window. In the past I made shaker cards with foam tape, but the sequins always tended to stick to the edges even though I used kitchen flour or anti-cling powder to take the stickiness away.
I filled up my shaker with the Belle's Dress Couture Sequin Mix from The Ton. This mix is just so pretty! I love that shade of yellow and the small gold sequins and teeny tiny flowers are great eye-catchers. To add even more sparkle to this shaker, I also added some Crystal Cloud Circles Confetti from Tonic. 💛
A couple of weeks ago, I shared a card made with Hello Bluebird stamps. I promised I would share more cards featuring these fun products, so here you go! 😀 I used the McGregor's Garden set again. That little bunny holding the flower pot makes me so happy. He looks adorable. I also colored two of the small birds to match with the sequin shaker. 🐥
That's it for now. Thanks so much for stopping by. I'll see you soon. Big hugs. 💌
Supply list
I am affiliated with Simon Says Stamp, Ellen Hutson, Hallmark Scrapbook, Spellbinders and Amazon. That means I earn a small commission when you purchase through my links (with no additional costs to you!). Click HERE for more information about my disclosure and affiliation with companies.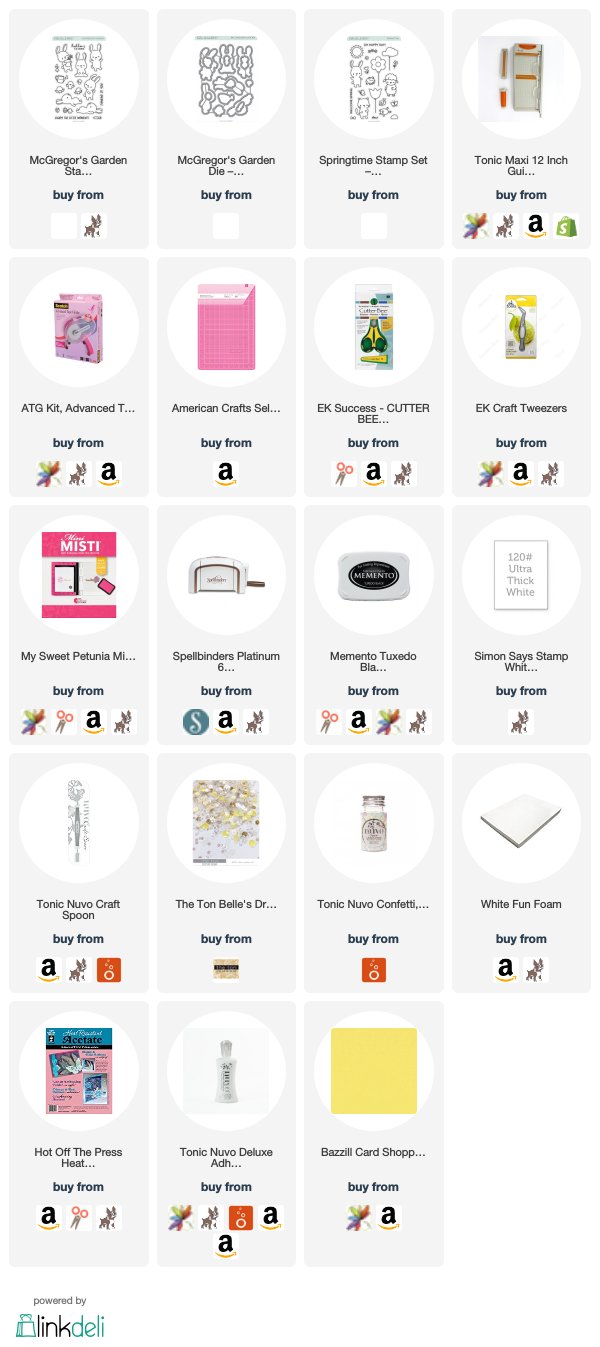 BewarenBewaren
BewarenBewaren
BewarenBewaren
BewarenBewaren